the person: adventurer, free-spirited, gut-follower, morning person, love to travel.  Simple mottos have applied to my life:  work hard, play hard and beer in hand, toes in sand!  The ocean feeds my soul, live music moves my soul, athletics drive my competitive soul, coffee awakens my soul, and sunshine and warm weather are like water for my soul.  

the past: growing up in a small town, I couldn't wait to get to a big college, move to the west coast and conquer the world.  Upon graduation, the goal was to be a VP for a big corporation - I spent more than 20 years working for some of the best companies, and people, in the world - Johnson & Johnson, Netflix, Cole Haan/Nike, and yet my soul felt completely empty. I realized I'm not built to sit behind a desk all week cutting through red tape!  I would rather be a hard-working entrepreneur chasing dreams.

the adventure: what can I say?  It changed my life.  Walking away from a corporate job, and deciding life had a bigger plan for me was the best decision I've ever made.  My gut said it was right, and I haven't looked back once.  Spending 14 months on the road LIVING is something I would recommend to anyone.  It's scary and exhilarating all at the same time, but it's mostly amazing.  It fed my soul on so many levels.
I'm doing what?: have to admit, I never thought I'd be painting as part of my career, but it's the most incredible feeling to get up each day, and know that we control our own destiny.  As small business owners, we value our customers, and each day that we're in our workshop, we never lose site of that.  We work hard to make the best products, and we hope our customers love them as much as we love making them.  Our motto now:  There's no Plan B.  Only Plan A.  And we still try to make time for those "beer (or rum) in hand, toes in sand!" moments.

Affiliations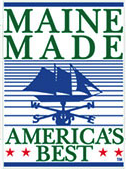 Maine Made: Proud to be one of over 2,100 members representing some of the finest craftsmanship available today.

Society of Southern Maine Craftsmen (SSMC): Founded in 1968, this non-profit, juried craft organization features Maine craftsmen who are seriously committed to producing quality handmade products.
Saco Bay Artists: A membership of craftsmen whose mission is to help members further their skills in the medium of their choice through fellowship and free exchange of ideas and information.